The European Space Agency and the Galileo Teacher Training Program join hands again to bring cutting edge training opportunities to all interested teachers. In 2022, we hope to be able to organize a face-to-face course, with the opportunity to visit the European Space Astronomy Centre (ESAC).
The workshop is open to teachers of all grade levels and subject domains willing to dive into a real STEAM experience (Science, Technology, Engineering, Arts and Maths).
The program will include presentations by scientists, hands-on activities, digital tools, research activities, visits to the facility and observing sessions with telescopes at ESAC.
The training is organized by CESAR (Cooperation through Education in Science and Astronomy Research), the resident educational team at ESAC, and NUCLIO (the coordinator of the Galileo Teacher Training Program), with the support of the team from the IAC (Instituto de Astrofisica de Canarias), the Faulkes Telescope Project and the National Schools' Observatory.
Dates: 17-21 October 2022
Venue: European Space Astronomy Centre (ESAC), Villafranca del Castillo, Madrid, Spain
Duration: 30 certifiable hours
Modality: hybrid (in-person and online)
Language: English
Topics and Lecturers
ESA's space missions
The James Webb Space Telescope
The Gaia Sky survey
Robotic Telescopes
Hands-on activities in the classroom
Inclusion and innovation in education
Astronomy for sustainable development
Registration will be open until October 10 (or until full capacity is reached) and places will be allocated on a first-come, first-served basis, with priority given to teachers working in public schools – for up to 80 on-site attendees and 200 online attendees.
The registration fee is:
400 € for on-site participants.
10 € for online participants. This symbolic fee will go entirely to the NUCLIO Trust programme to help students from developing countries to pursue university studies.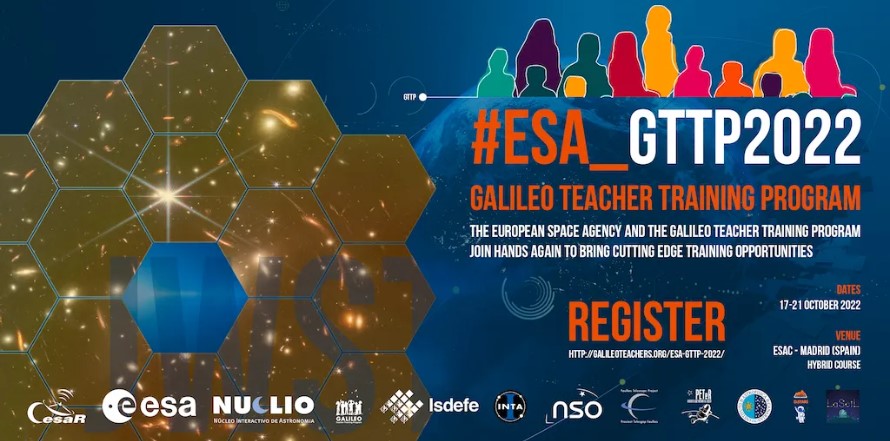 More information and registration: https://galileoteachers.org/esa-gttp-2022/
Sursă și imagini: galileoteachers.org/esa-gttp-2022/ via iTeach (iteach.ro/anunturi/121980/)